Award Winning Luxury Custom & Off Road Caravans
LATEST NEWS
DEALERS: Dave Benson Caravans in South Australia has joined the Elite Dealer network

Elite Caravans is delighted to have one of Australia's biggest caravan dealers as our representatives in South Australia.
They also have Australia's largest indoor display showroom at 64 Grand Junction Rd, Kilburn, so, it's like a caravan show every day.
2020 OFF ROAD CARAVANS: Work, Rest And Play - The WRAP Caravan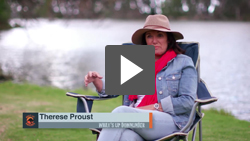 The Elite Caravans WRAP makes caravanning even more fun.
Would you like to take your off-road motorbike with you on your next caravan adventure? No worries, we've made room for it. What's Up Downunder tours the WRAP, highlighting the great features.
Luxury and style, all within a TOUGH, off-road caravan. That's the WRAP by Elite.
NEWS: Paul takes Robby from WUDU through the Elite Caravans Palazzo Double Slide-Out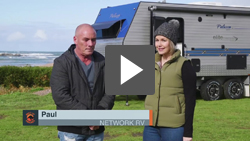 Would you like to travel around Australia in comfort and style? What's Up Downunder gave us the opportunity to show off our Palazzo Double Slide-Out luxury touring caravan.
Some of the standout features include side and rear slide-outs, a luxurious interior, lithium battery power, dual solar panels, Wi-Fi and a huge 72 inch UHD TV. Now that's luxury
CUSTOM CARAVANS: Everyone Loves The Mancave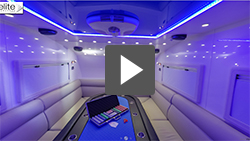 A little while back, we gave everyone the opportunity to win the FANTASTIC Mancave.
Games table, large-screen TV, thumping stereo, Playstation, leather lounge, air conditioning, mood lighting & beer on tap - a GREAT package meant for fun.
Click the play button to view this 3D tour.
FACEBOOK: See What's New & Share Our Facebook Posts
We love Facebook because it helps us keep in touch with Elite Caravans owners and allows us to bring you the latest, and greatest that we have to offer.
We have a fantastic following on Facebook. As such, we are always posting exciting and interesting news about our caravans, and the people who love them.
Explore our posts - we're certain you will find something of interest to you and when you do, be sure to leave a Comment, Like the post or Share it with your friends. We learn a lot by reading your comments and appreciate any feedback you have for us.
If you're looking for a luxurious touring caravan, a luxurious family caravan or a luxurious off road caravan, Elite Caravans has a model to suit your needs. Have we posted your favourite model?
RESOURCES & HIGHLIGHTS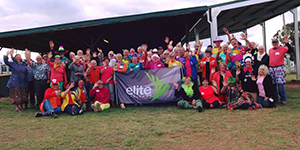 Special Announcement
It is with very great honour to announce that NETWORK RV PTY LTD are the new owners of Elite Caravans. Network RV build NEXTGEN Caravans, VICTORY Caravans and ROADHOUSE Caravans. With 16 Dealers around Australia, including 2 in New Zealand, we look forward to establishing Elite Caravans in our current dealerships and new dealerships. Expect to see Elite Caravans at a show near you in the forthcoming months. Please contact paul@networkrv.com.au for dealership enquiries. Telephone (03) 9357 8914
Elite Caravans Wins 2015 Manufacturer Of The Year By The CTIAV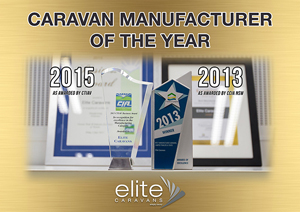 Elite Caravans are built TOUGH to last, with a never ending drive for excellence.