Award Winning Luxury Custom & Off Road Caravans
LATEST NEWS
SHOWS: Border Show In Wodonga VIC + Rockhampton Show In Rockhampton QLD
Visit us at the Wodonga Racecourse in Wodonga VIC & the Rockhampton Showgrounds in Rockhampton QLD to see the newest in the Elite line-up of luxurious and off road caravans.
At Wodonga, see the LUXURIOUS TOURERS, the Palazzo Slideout and the Murray Series 2, the FAMILY-FRIENDLY Luxury Class 1860, and Luxury Class 180 models, and the Hume Series 1 FV, and Hume Series 2 Off-Roader models, and the SUPER TOUGH Balistic 1910, Balistic 2010, and Balistic 2210 models.
At Rockhampton, see the LUXURIOUS TOURERS, the Murray Series 2 and the Eildon Series 8, the FAMILY-FRIENDLY Luxury Class 2160, and Luxury Class 2010 FV models, the SUPER TOUGH Balistic 2010 RD, Goulburn RZ, and Goulburn 1810 models, and the COMPACT OFF ROADER, the Dirty Harry 16.
Where: Wodonga Racecourse, Hamilton Smith Drive, Wodonga VIC
When: Friday 25th - Sunday 27th August 2017
Where: Rockhampton Showgrounds, Exhibition Road, Rockhampton QLD
When: Friday 25th - Sunday 27th August 2017
Visit the Elite site at the shows to view the best caravans available.
See you at the shows.
NEWS: We Welcome A New Dealer To The Elite Family

Elite Caravans would like to welcome the latest dealer to join our family, Hinterland Caravans.
With locations on the Gold Coast in Queensland and in Morisset in New South Wales, they are the ideal caravan dealer for you to visit when you want the best caravans and the best service.
Be sure to visit Hinterland Caravans, at either of their locations, to view the Elite Caravan of your dreams.
TESTIMONIAL: A Customer's Gift + Testimonial - Thanks Luke & Taryn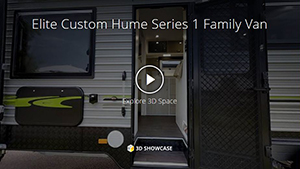 "We have our van and we absolutely love it. We are heading off on our first trip today and it is all packed ready to go. Our friends and family have now seen the van and they are very impressed with the quality. During the process nothing was a problem and anything could be changed it was easy, we now have a van that has been fully customised to our needs. I would recommend Elite Caravans to anyone.
Thanks Again
Luke & Taryn"
This walk-through was sent to us from 2 very happy Elite Caravans' owners. Have fun with your new van!
NEWS: Australian Caravan +RV Magazine Reviews
Australian Caravan + RV magazine visited our site at the Melbourne Leisurefest & reviewed two of our vans - the Goulburn Armageddon 180 & the Balistic 2110 RZ.
NEWS: Australian Caravan +RV Magazine Article On The Stealth Caravan By Elite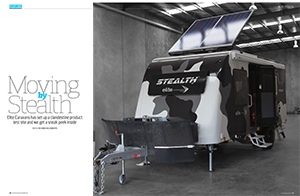 Our Stealth caravan doesn't fail to capture peoples attention, wherever it goes.
Australian Caravan + RV magazine have written an article on the Elite Stealth, published in issue 54. Read the article by clicking the PDF link below.
FACEBOOK: See What's New & Share Our Facebook Posts
We love Facebook because it helps us keep in touch with Elite Caravans owners and allows us to bring you the latest and greatest that we have to offer.
We have a fantastic following on Facebook. As such, we are always posting exciting and interesting news about our caravans and the people who love them.
Explore our posts - we're certain you will find something of interest to you and when you do, be sure to leave a Comment, Like the post or Share it with your friends. We learn a lot by reading your comments and appreciate any feedback you have for us.
If you're looking for a luxurious touring caravan, a luxurious family caravan or a luxurious off road caravan, Elite Caravans has a model to suit your needs. Have we posted your favourite model?
NEWS: Caravan & Motorhome Magazine Profile Our Popular Murray Series 2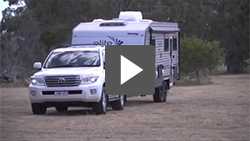 The NEW Murray Series 2 is a long-term touring caravan.
Featuring many luxurious appointments, making for an apartment-style interior.
NEWS: Three New Caravans Added To The Elite 2016 Model Line-Up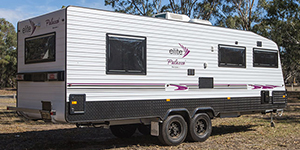 The New Palazzo Series 5 Luxury Caravan
luxurious leather club lounge
external TV entertainment pack
Fusion 750 Series DVD/CD player with Bluetooth
dual camera reverse kit
186L Dometic AES Tropical Rated 3 Way fridge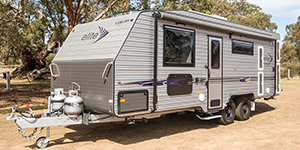 The New Luxury Class 2280 Luxury Caravan
huge ensuite and boundless storage options
footrests at club lounge
21.5" led tv in bedroom
slide-out bbq
dual camera reverse kit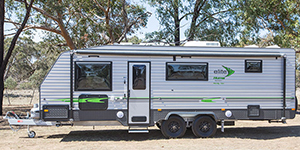 The Updated Hume Series 1 Family Caravan
3 bunk set up for larger families
Air Command Ibis MK3 air conditioner
20ft awning
Fusion RA-205 audio system
external Fusion marine speakers
NEWS: Elite Caravans Wins 2015 Manufacturer Of The Year By The CTIAV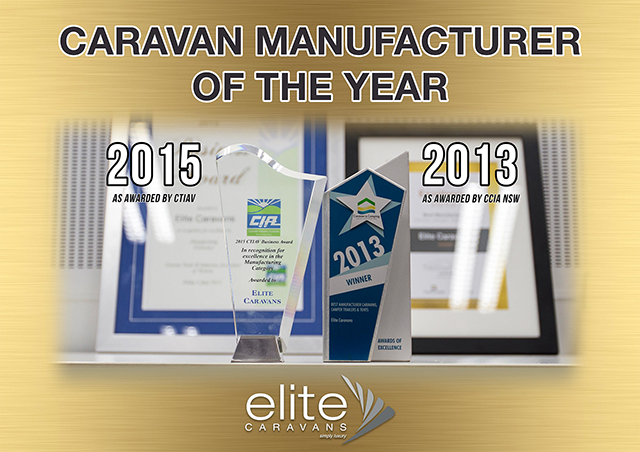 We are proud to be recognised for our efforts to produce the best caravans available.
"Taking out this award just solidifies the hard work and dedication of our team. It also provides us confidence that we're delivering a quality product, and seeking the right path in innovation" said Mr Cappola.
CUSTOM CARAVANS: A Special Build For The Feathertop Winery
At Elite Caravans, we pride ourselves on our ability to deliver what you request. When Boynton's Feathertop Winery asked, can you build this custom caravan, we said YES! CLICK HERE TO READ MORE
INNOVATIONS: Elite Caravans' Custom Boat Motor Holder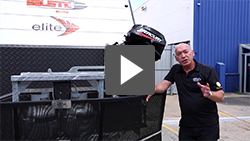 Another first for Elite is this custom boat motor holder designed specifically for the caravan. It provides a secure and easy means to store your engine. With Peter Smith talking you through the simple process of locking in the boat motor to this off road Balistic, you'll be able this secure feature without hassle.
At Elite we're always looking at new innovative features to add to our off road caravans.
OFF ROAD CARAVANS: We Put The Goulburn Off Roader Through The Sand Test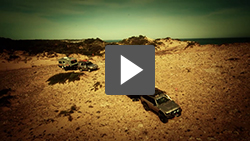 When we test a van we really put it through it's paces.
Goulburn Offroader and Dirty Harry were put through their paces over the sand dunes. This test drive was conducted in Robe, South Australia. Here you can see both these off road caravans tackle a truly robust landscape, and in style. We take pride in our off road caravan models and with this particular video you can see the action unfold.
RESOURCES & HIGHLIGHTS
PAST HIGHLIGHTS