Today Is The Day...
John and Judy Schulze spent 3 years researching their "retirement caravan", with what would become their second caravan. Travelling up and down every isle of many caravan expos and over several years, Judy said it would have encompassed looking through at least 100 caravans.
It was when they spotted the Elite Murray that made them think is this fate? Murray is synonymous with their lives. It was an annual pilgrimage to the "Murray" river for their family holidays. Judy's Grandmother's name is Murray.
Judy's Brother 2nd name is Murray and their brothers son also carries the middle name of the new caravan.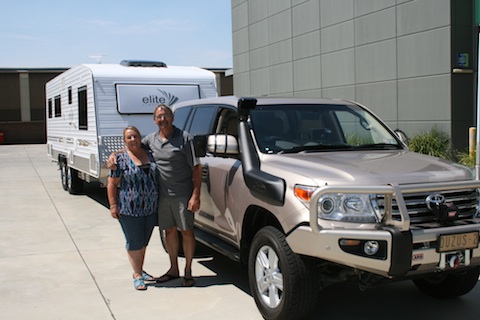 Their first look through the Elite Murray took a couple of hours. Then for the next two consecutive years at the Melbourne Expo, they spent at least an hour in the van. But the name was not the only criteria for their selection, it was simply a bonus.
Their "must have" list comprised of the following
The perfect layout (ability to custom design if required)
High quality off-road Chassis
Had to be able to travel along the Gibb River Road
Premium Quality finish
Good Workmanship
So to ensure they ticked all the boxes they not only grilled any retailer or sales rep about the vans it also included factory visits. Even though a local manufacturer was only 10 minutes away from the Schulz home they couldn't accommodate their needs.
"As a company we love it when customers really do their research and have a check list like John and Judy had. When they finally settled on an Elite model it reconfirms that we are producing a superior product." said co-owner of Elite caravans.
"What's more is John and Judy are fantastic people and it was a pleasure to open up our factory, and design a caravan to accommodate their needs."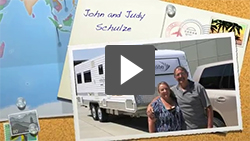 "We only needed to make a slight change to the ensuite layout and went as far as matching the gold detailing to their vehicle to give it the "perfect" package."
John retires on the 17th of April and soon after they will be heading west, up the Murray River first of course! On their way to Renmark and Mt Isa, they plan to be on the road travelling to all parts of our great country for 5 years. Here is the happy couple driving off the showroom floor to start the good life.
Selecting the right caravan for your requirements can be an intensive process, but well worth it for the end product. With an off road caravan like this Elite Murray, you can take your travels all over Australia.
Not everyone will have the same desires and 'must haves', which is why our range at Elite is highly customisable. Whether you're after a family, luxury touring, or off road caravan, Elite have your needs covered.