Elite Becomes The First To Be Accredited By RVMA!
It's about delivering quality product.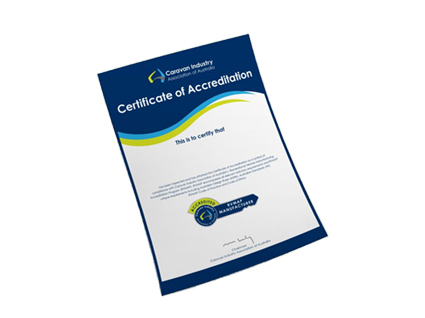 RVM Australia CEO David Duncan said at the launch of the initiative in April 2013 it was a crucial in raising the bar substantially for compliance of Australian RVs. "RVMAP is a mandatory member accreditation program that is robust and comprehensive and it captures a greater share of manufactured product than ever before" he said.
"Its systems and processes will provide greater support to manufacturer members in complying with the law and maintaining comprehensive documentation to verify their compliance."
"It will enhance the already substantial value of the RVM Australia badge as the symbol of a high quality RV and will help establish a level playing field for all RVs sold in Australia."
Owners of Elite Caravans who are proud of being the first manufacturer to be accredited.
"It shows our dedication to producing a high quality product and becomes another feather in Elite's cap at being the first for the Industry".
"As leaders in the caravan industry we produced the first Home Theatre Van, a triple axle with cruisemaster suspension and next week (at the Brisbane show) we are launching the first Australian luxury caravan with a Theatre Zone."
"We congratulate the RVMA in setting up this accreditation, as many of the imported models and even some of the Australian brands simply do not meet safety and quality standards for Australian caravaners."
Pictured Centre: Daniel Sahlberg (Technical Advisor from RVMA)
What is RVMAP?
When you purchase a caravan, you want to ensure that the product is reliable to take on the road and built to Australian standards. With the Caravan Industry Association of Australia's Recreational Vehicle Manufacturing Accreditation program, you meet these standards.
Elite's accreditation means:
Elite caravans are manufactured to comply with Australian Design Rules, applicable Australian Standards and Safety Regulations
our caravans are designed to withstand Australia's harsh climate and conditions
So if you're in the market for an off road, luxury, family, touring, or multi-purpose caravan, Elite design all models to a high industry standard. We know the importance of safety, above all else.
If you want to learn more about RVMAP then please visit this website: http://www.caravanindustry.com.au/rvmap