Elite Caravans Wins 2013 Manufacturer Of The Year!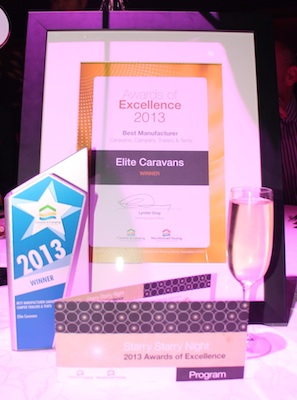 Elite Caravans has been recognised as "Best Manufacturer 2013" at the Caravan and Camping Industry Association (CCIA) awards dinner in Sydney.
We are thrilled to take out Australia's highest award in this category. It is an honour for our company to be recognised and it demonstrates what a great team and product we have developed at Elite.
Reaching the pinnacle of caravan manufacturing comes as a result of striving for the highest of quality.
Whether it's delivering a fully customised off road caravan, or providing a family caravan with that luxury touch, Elite will always design a quality product. You can find out more regarding our caravan range by visiting model pages on our website.