A Letter From Mistletoe Wines
August 31st, 2016
The following is a letter we received from Mistletoe Wines' owners Gwen and Ken, who also own an Elite Caravan - their 2nd Elite.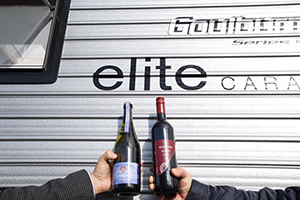 "Good evening to you all, Gwen and I are in Port Douglas on our holiday. We have travelled over 3500kms with the van to get here. No problems, the unit is fantastic and tows like a brick. Interestingly getting nearly the same fuel economy with the new unit as what we were with the Goulburn. The new Cruiser is definitely better on fuel.
James Halliday has just released his Australian Wine Companion 2017. Mistletoe has received some wonderful ratings for its wines especially the reds from 2014 which I have been telling you were great for the last 2 years. You should (hopefully) still have some of these wines in your cellars. I have attached James's tasting notes from the book for you interest. The thing that we are really chuffed about is that in the terms of size we are pretty small producers. However, in terms of quality, if you have a look right through his book, we are right up there amongst the best wineries in Australia. One comment that has been made to us is 'You guys punch well above your weight'. Make sure you keep some of the 2014 wines for the future, you will have something very special to share with your family and friends down the track.
We are headed inland to Mareeba tomorrow and then? Who knows? We are not planning on being home before September 2nd. so still have a few weeks to go. Hope you are going well, selling heaps and most importantly, enjoying life. Gwen sends her best as well. Coffee on the road cannot be beaten!
Kind regards,
Ken"
Visit The Mistletoe Winery Website
LINK: http://www.mistletoewines.com.au
Read The James Halliday Ratings For Mistletoe Wines