Escape The Winter In Your Caravan
July 13th, 2016
For those of us living in the southern regions of Australia, the winter months can become too cold to even contemplate leaving the warmth and comfort of our homes. One way to combat the cold is to escape to the warmer, northern parts of Australia.
The central and northern regions of Australia are the perfect destinations for those wishing to leave behind the winter cold. With all the great natural attractions available in these areas, there are plenty of caravan parks and camping grounds offering the perfect getaway destinations this winter.
These are just a few havens for you to consider when heading north, away from the cold of the southern states.
Nitmiluk Caravan Park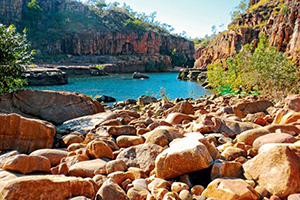 The Nitmiluk Camping and Caravan Park is a great location for nature lovers. Situated in the Nitmiluk National Park, the campground and powered sites offer the ideal environment for you to setup your caravan and explore the surrounds. The site is closely located to the beginning of the Nitmiluk (Katherine) Gorge system, which you can explore on a boat cruise, or if you're feeling energetic, grab a canoe and paddle yourself through the wonderous landscape.
The site also offers a resort-style swimming pool if you would like to laze in the sun. The poolside bar and bistro offers snacks and a cold drink while you relax and soak up the sun.
Ayers Rock Campground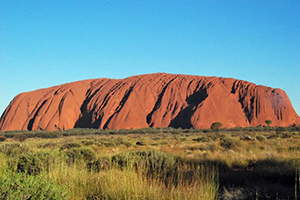 The Ayers Rock Campground is just 15kms from Uluru (Ayers Rock) and is located within the Ayers Rock Resort. It is the ideal location for exploring the Uluru-Kata Tjuta National Park and consists of 198 powered sites for caravans and camping.
There are plenty of services and facilities available on-site, inlcuding a swimming pool, playground and bbq facilities.
The resort offers many restaurants, bars and shops to help make your caravanning trip a true holiday experience.
Kakadu Lodge and Caravan Park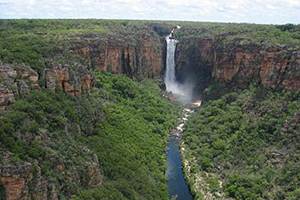 The Kakadu Lodge and Caravan Park is a great place to setup your caravan and explore the natural beauty of the Kakadu National Park. The grounds feature fully landscaped gardens, offering shady, grassed sites for you to situate yourself amongst the outback backdrop.
Powered and unpowered caravan sites are available. Most tours pick up from the lodge, making it easy for you to explore the region.
The lodge boasts a logoon-style swimming pool, poolside bar and bistro, licensed restaurant, and outdoor bbq facilities.
We hope these locations offer you an alternative to escape to this winter, where you can warm up whilst exploring the beauty of the Australian outback.
Caravanning offers you the freedom to visit all these three destinations at your leisure and within the comfort of your own residence. So, load up the caravan, pack some shorts and t-shirts, and leave the cold behind.