Let The World Rush By You...
April 18th, 2016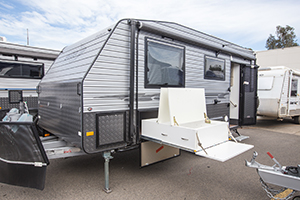 Taking the ultimate escape from reality is a dream come true for many. Elite owner Ken Dyer and wife Maureen are looking forward to the endless discovery of Australia, in the comfort of their new Elite caravan.
Mr. Dyer is a former award winning documentary filmmaker who's worked at the BBC and ABC - now he's setting out on a fresh adventure from beyond the fast paced world of television.
Why did Mr. Dyer and Maureen choose Elite Caravans? It wasn't one stand out feature, but many attractive elements.
"I like the light, the openness and the windows", said Maureen. "It was beautiful when we saw it the first time. I also really like the colours we chose."
For a couple seeking to leave the urban bustle behind, their Elite Goulburn was the perfect solution.
Ken had a specific vision of what they desired: "What we are looking for in a van is comfort, but we still wanted to be able to travel wherever we could. Elite has a specific style, something about their vans I just loved and it has everything we hoped for."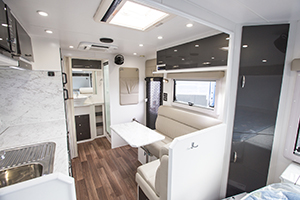 What also sparked the initial interest of the pair was Elite's ability to provide a level of customisation like no other manufacturer. Mr. Dyer specifically asked for a custom designed slide-out bench, which was a highlight feature for the couple.
"When you're in the bush, power is the most important feature and together we worked out that we needed the most power we could get. So we put in an EOFY battery system, solar panels and lithium batteries."
With their Elite Goulburn in tow, the possibilities are endless.
"Elite has that intangible quality of style. When you walk into an Elite Caravan, it feels like you are walking into a palace! So what I'll do now is take it slow and let the world rush by me."
Goulburn Off-Roader Standard Features:
16 inch Off Road Tyres
Cruisemaster Suspension
Hitchmaster Coupling
190L Fridge
LED TV on Swing Arm
Reverse Camera Kit
Flick Mixer Tap
plus many more...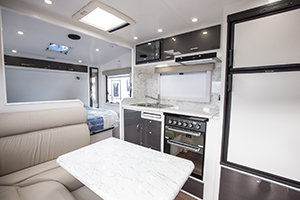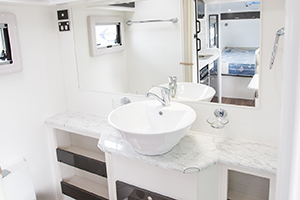 Additional Custom Features:
Lithium Batteries
EFOY Fuel Cell
ESC (Electronic Stability Control)
Annex track
Slide-out BBQ
Additional Solar Panels
Diesel Heater
External Shower