Tackling The Outback In Your Caravan
January 13th, 2016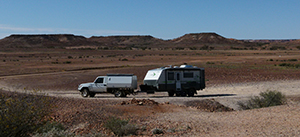 Photo: Elite Caravans owners Michael and Jill
Planning your first outback caravanning adventure? When you're thinking about going off road and into the intense Australian outback, planning is essential.
Depending on your own limitations (caravan or personal) will formulate the basis of how much planning is required. We all love the idea of travelling through desolate red landscapes and watching the sunset far away from civilisation, but this reality isn't always easy to achieve.
Seasoned caravanners will have their own methods and tactics when travelling through the bare bones of Australia, but for those starting out, take in all the advice you can! Off road caravans are built for these conditions - so if you've got one, take the opportunity to get away!
Locations We Love!
Devils Marbles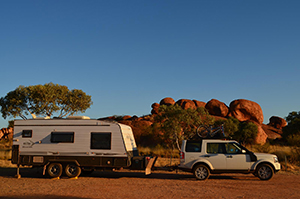 Photo: Elite Caravans owner Peter
We've all seen this iconic rock formation in photos, but to experience this wonder first hand, now that's unforgettable. The Devils Marbles is located in the Northern Territory, within the Karlu Karlu / Devils Marbles Conservation Reserve.
Nearest caravan park is the Wycliffe Well Holiday Park.
Broome
Have you ever dreamt of watching the sunset on the beach - whilst on camel-back? You can experience this iconic tourism image by visiting the beautiful coastal town of Broome. Roebuck Bay is a highlight, with stunning crystal blue waters and an endless sandy shoreline.
Alice Springs Desert Park
Located just outside the heart of Alice Springs is the intriguing Alice Springs Desert Park. In this managed park facility you are able to experience various habitats, wildlife and commentary.
Habitats Include:
Desert Rivers
Sand Country
Woodland Habitat
Nature Theatre
Nocturnal House
Waterhole
Watching the Weather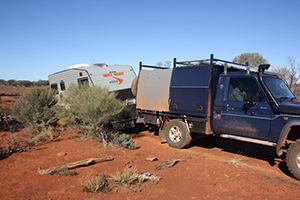 Photo: Elite Caravans owners Matt and Laurel
Weather conditions in the outback remain fairly consistent, but that doesn't mean you will easily acclimatize. With the warm sun rays filtering through the landscape, it will be difficult to find any patch of shade, which can quickly affect your health due to the high temperature and sun exposure. Make sure you have your own shady set-up and ensure you take precaution when undertaking any sort of trek.
Although you might be one for spontaneity, we still advise you research the area in which your outback adventure will take place. When you look at the suggested landscape attractions and walking trails, there might be restrictions or advice detrimental to your experience - which will also affect weather you want to undertake that experience in certain weather conditions. Experienced caravanners suggest getting up early to get the most out of your day, without being restricted by the hot weather.
Staying Fed and Hydrated
We can't over emphasise the importance of water when travelling through the outback, due to the harsh, dry conditions. If you're going to be adventuring and trekking through outback areas you'll need to carry a good water supply. Also, you'll need to ensure your car has enough water, and your caravan. Don't underestimate this element as it could leave you in a pickle.
When it comes to keeping yourself well-nourished during your outback adventure, it is worth stocking up on food at a supermarket and making time to prepare as much food as possible. Eating out can be pricey through some outback towns. Nothing is better than cooking inside your luxury off road caravan - if you have the means to do so.
Driving Through the Outback
Most people who've already tackled the outback in their off road, family, or luxury caravan will advise that you take a look at petrol station localities and ensure you keep an eye on your tank level. When you do stop to fill up, make sure you do fill up completely. It will often be cheaper filling up your entire tank where possible and better time management. Plus, you don't want to be caught out with no petrol in the outback!
Another handy piece of advice is to avoid driving at night - you don't want to share the road with wildlife!