10 Things to Remember Before Undertaking Your First Caravan Trip!
November 24th, 2015
Although there are a substantial amount of second and third time buyers purchasing an Elite caravan, there are also a lot of first time buyers. Elite assist all first time buyers with the information they need before taking their Elite across the Australian landscape - and they'd love to share some of the advice. In this article, we address technical and non-technical things to remember before you head off on your first trip - along with some quirky general advice.
First Aid And Medical Supplies
If you're thinking about going truly off-road and seeking out the most remote Australian locations, think about how this might leave you vulnerable. In case of injury (fingers crossed this doesn't occur), you need to be prepared and this means travelling with a top class First Aid Kit. Although this may sound like an obvious thing to run through before you leave on your trip, it can also be something that may possibly slip your mind!
Which leads us to...
Have A Checklist!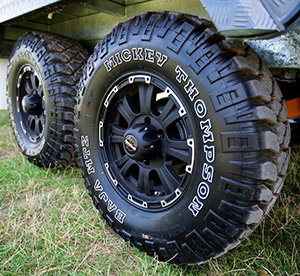 Another obvious, but integral measure before your first caravan trip! Whether you have a printed out list of things to pack, or simply write down some points, it's essential that a checklist is a part of your planning process. You may even need a few categorised checklists - to cover all bases.
Caravan preparation
Clothes and food to pack
Tow vehicle preparation
Checking Your Wheel Nuts
It's of the utmost importance that you check your wheel nuts periodically (especially before your first trip) to ensure they are tightened in accordance with your manufacturer specifications/guidelines (recommended 120Nm). Losing a wheel on your first caravan trip is sure to shake your confidence going forward.
Check Your Tyre Pressure
Before undertaking your long awaited maiden voyage it's extremely important to check your caravan tyre pressure. Like with a car, there is an ideal pressure to maintain with your caravan tyres, allowing you to best tackle the rugged Australian landscape. We suggest approximately 45 psi, but there are surfaces and circumstances when it's best to alter this slightly.
For more accurate information, you can call us to speak with a professional regarding tyre pressures.
Fill Your Gas Bottles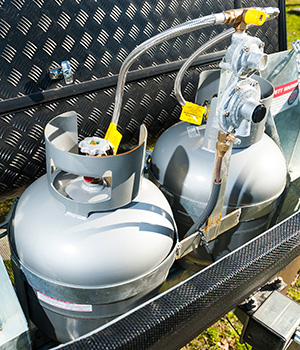 It's not surprising that people may forget to undertake this small procedure before taking their caravan on its first outing. In many cases it always seems to be the small and easy things that we sometimes forget.
Checking Your Weight Distribution
Ensuring weight is evenly distributed within your caravan is dire for safety and towing reasons. We know it can be hard to reduce the amount you're packing into your caravan, especially when it's your first trip, but in most cases it's more important to have a weight distribution strategy.
Tell Your Nearest And Dearest Of Your Adventure
Are you keeping your travelling plans to yourself? Probably not, especially in the case of your first caravan trip! However, we would like to re-iterate the importance of letting those around you know where you will be - or at least roughly. Sometimes caravanners will extend their trip, shorten their trip and change their plans whilst on the road, but since it's your first trip please let someone know where you will be.
Although this point is more relevant when you're going off the grid, it's also handy advice for any first time caravanner.
Double Check Your Indicators And Brake Lights
Just like your car, you should always check the functionality of your brakes and indicator lights. You'll need to ensure that you have your connections plugged in and wired correctly - otherwise trouble is certain to ensue whilst on the road. Again if you're unsure about any aspect of wiring and connections, contact Elite (or your caravan manufacturer).
Loose Items Beware!
Even career caravanners will get this wrong on a regular basis! Before every caravan trip you should be ensuring all loose items are stored safely. Although this advice may ring in your head before you leave on your first trip, it may be that common sense advice you forget during one of your future caravan adventures.
Do make sure your crockery doesn't end up on your caravan floor in a million pieces!
Conduct All Tow Vehicle Checks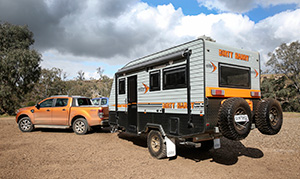 Water, oil, petrol, plus electrical and any other functional checks possible. Whilst you're focussed on ensuring your new travelling abode is prepared and in good working order, you may not pay as much attention to your towing vehicle, which is a big mistake! Without a fully functional and healthy tow vehicle, your first caravan trip could end a little shorter than expected.
PLEASE NOTE: There are many more checks and technical guidelines suggested by your caravan manufacturer before undertaking your first trip, these are just a handful (and starting point). All new Elite owners are provided an in depth handover process that will cover all angles of taking care of your caravan and ensuring your first trip runs smoothly. Please, use this article as a guide only.
If you do have any questions specific to your Elite caravan trip preparation, make sure you contact us on (03) 9357 8914.