Elite's Interior Colour Range Designer Alisa Picks Up A Luxury Class Van
November 10th, 2015
It's been approximately a year since 'The Block Sky High' winners Alisa and Lysandra teamed up with Elite Caravans to design an exclusive interior colour range.
Since designing this innovative new colour range for Elite, the talented pair have been busy with several projects, but also out and about promoting the new Elite interior colour range.
During a photoshoot earlier this year, both Alisa and Lysandra expressed keen interest in heading across Australia in a caravan.
What wasn't apparent, is that Alisa would be at Elite's doorstep soon after the video shoot.
NOW months later, Alisa and husband Daniel have just picked up a Luxury Class 2010 Family Van - with off road chassis. The family van has two bunks, set up for son Nate and the arrival of a future brother. With both luxury and off road capabilities, this family is set up for many amazing experiences.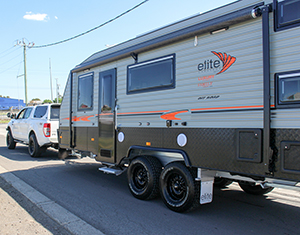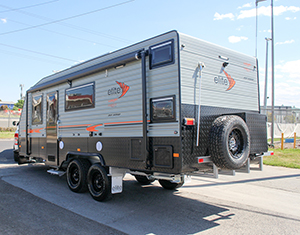 They have already taken a trip to The Grampians (VIC) last week and Elite are looking forward to future adventure updates from this lovely family. Due to the fact that Alisa will need to work whilst on the road, the caravan has been fitted with a mobile booster. Elite understand the vital importance of technology in today's online and highly connected world, which is why there is a strong focus on R&D at Elite Caravans.
With no firm dream travel locations, Alisa is hoping to see every inch of this beautiful country.
Elite wishes Alisa, Daniel, and son Nate happy travels for the future - along with the safe arrival of another baby boy.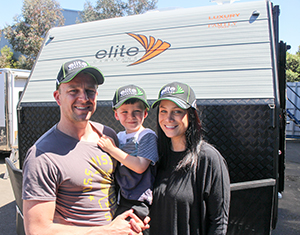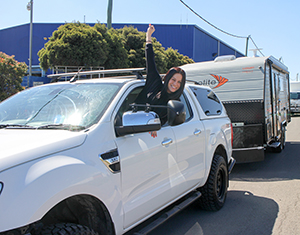 If you're still interested in finding out more about Alisa and Lysandra's colour range, please contact us on (03) 9357 8914, or email us. Also, take a look at our family and off-road range to find out additional features of Alisa's Luxury Class 2010 Family Van.