October Show Feature - Catch Elite This Month!
October 20th, 2015
With the end of the month fast approaching, Elite Caravans isn't slowing down. In fact, there are three more upcoming shows for the remainder of October. If you're still yet to visit a caravan show this year, then make sure you take a look at where you can catch Elite this month.
With a growing range of touring caravans, off road caravans, family caravans and luxury caravans, you don't want to miss out on seeing the latest Elite models - before the crazy Christmas period.
Canberra Home, Building, Caravan Tourism, 4WD, Camping Show

Friday 23 - Sunday 25 October 2015, Exhibition Park
10am - 5pm Friday and Saturday, 10am - 4pm Sunday
Elite Caravans Stand: 39
LINK: http://www.canberrahomeshow.com.au
On the very same weekend as the Toowoomba Spring Show, another half of the Elite crew will be setting up in Canberra. With a range of touring, off road, family, and luxury style caravans on display, this is the perfect opportunity for education on the Elite fleet.
Featured Models:
Goulburn 1810
Balistic Armageddon
Luxury 1860
Balistic RZ
Luxury Class 2306
Murray S2
Hume S2
Luxury 180
Brisbane Pre XMAS Show

Friday 29th October - Sunday 1st November, Brisbane Showgrounds
10am - 5pm daily
Elite Caravans Stand: 286
The Brisbane Pre Xmas Show is the last show of the month for the Elite team and what a show it will be! Elite have pulled together some resources and made this show one not to miss!
So what's different about this show? Elite have special guests at their stand, with thanks to our friends at Prodrive Australia.
Originally, Pepsi Max Crew superstar Chaz Mostert was set to appear at the Elite stand but for obvious reasons (his injuries from a nasty crash at Bathurst), he no longer can attend.
HOWEVER, this only means there's room for rising V8 star Cameron Waters - who will be acting as a full time replacement for Chaz until he recovers. Cameron is currently leading the Dunlop Series!
Cameron Waters Appearing Saturday 31st October
At 11am, Cameron Waters will be undertaking signings for fans and caravanners alike, providing some extra buzz to the Elite stand!
But wait, there's more...
Pepsi Max V8 Car Displayed For Duration of Show
At the Elite stand from Thursday 29th October - Sunday 1st November will be a full size replica Pepsi Max V8 supercar, providing the perfect opportunity for some great snaps.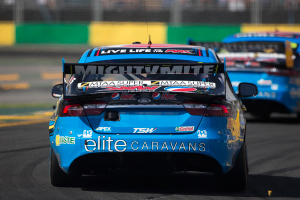 With 3 more shows happening during the remainder of October, make sure you find the time to visit an Elite stand and get a great SHOW SPECIAL! It's not long until Christmas - so what's better than ordering your dream caravan for the New Year?
Off Road, Luxury, Touring and Family models on show!