Weekend Wrap Up: Bathurst & The Melbourne Leisurefest!
October 8th, 2015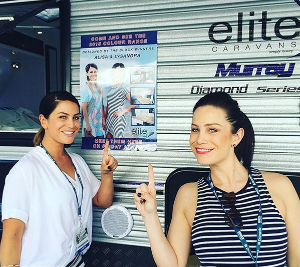 It's been a huge weekend for the Elite team, from visiting the Melbourne Leisurefest, with guests Alisa and Lysandra, to hitting up Mount Panorama at Bathurst 1000!
Melbourne Leisurefest kicked off on Thursday with great success and then followed on to an exciting appearance of 2015 colour range designers Alisa and Lysandra on Friday.
At the Elite stand, our range featured of off road, luxury, family and touring caravans.
Before their appearance at the Elite stand, Alisa and Lysandra caught up with 3AW, who were broadcasting from the Melbourne Leisurefest. After a sneaky interview with the team at 3AW, the interior designers emerged at the Elite stand for a meet and greet.
Friday also saw a visit from Caravan and Motorhome, who were interested in meeting Alisa and Lysandra, and getting the lowdown on their innovative colour choices. You can apply any of their colour choices to any of Elite's off road, luxury, touring, or fully customised caravans.
Saturday and Sunday of the show also proved to be a great turn out, with the weather holding out for the majority of the weekend.
Although the Melbourne Leisurefest was a major event for the Elite team, we must not forget the Bathurst action!
Elite's mini fleet was set up Wednesday to accommodate both Prodrive guests and Dean Canto.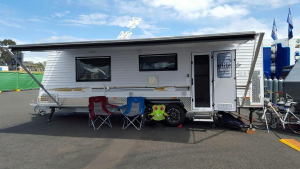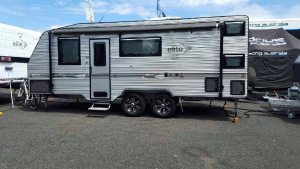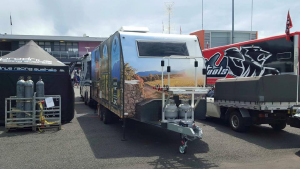 Also making a headline appearance at Mount Panorama was the Elite ManCave! Competition winner (now ManCave owner) Jenn and her partner Griffin took their new beast up the mountain to entertain friends. It also caught the eye of the Channel 7 news team.
Bathurst Outcome and Results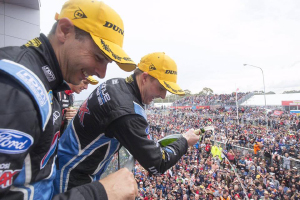 After a major incident in the qualifying stages of Bathurst, Elite are relieved to know that Pepsi Max Crew driver Chaz Mostert is now recovering in hospital.
A big congratulations to Mark Winterbottom and Steve Owen after receiving second place in Sunday's Bathurst 1000.
Also, huge support to Dean Canto and race partner David Reynolds from The Bottle O Racing Team, who placed 6th in the major race.
It's been a huge weekend for the Elite team and there are many highlights to treasure!
If you're interested in any of the off road, family, or luxury caravans displayed in this post, make sure you check out the relevant pages on our website.