Elite Increases Sponsorship And Donations
September 28th, 2015
Elite is happy to share the news of a few new sponsorships across the animal kingdom, in conjunction with many other donations and community support in the past.
Supporting the needs of endangered animals is a great way to give back to those who need it the most and especially those (who in some cases) are unable to sustain their in own future.
Now presenting...
The Australian Rhino Project - Rhino Conservation Australia

Have you heard about the dire poaching situation in South Africa? Rhinos have been targeted by poachers for many years, but the reality of extinction is worse than most can imagine.
More than 4000 Rhinos have been poached in South Africa since 2010 and 1,215 during 2014.
Every 6 hours a Rhino is killed.
Such terrifying figures are hard to comprehend, which is why Elite have stepped in to support the work of The Australian Rhino Project.
The Australian Rhino Project aim to create a population of Rhino within Australia in order to prevent complete extinction, which occur in the environment they currently inhabit. A substantial task, but one that can be achieved with the help of the Australian community.
LINK: http://theaustralianrhinoproject.org/index.php
Free The Bears: Mokiup
As the name suggests, Free The Bears is an organisation supporting a free life for bears in Asia, untarnished by human cruelty. Within Asia, the bear population is targeted for their bile in Asian medicine, for entertainment (dancing) and commercial farming.
Founded by Mary Hutton, the organisation has now grown tremendously and involved in many initiatives to help bears across many Asian countries.
Elite now sponsors Sun Bear Mokiup, who is a proud success story from 2014. Mokiup was rescued from a small cage in deplorable conditions, but has now grown to become a confident and trusting bear.
LINK: http://www.freethebears.org/index.php/about-us/story/
The Orangutan Project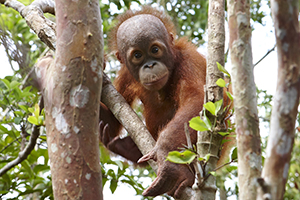 Orangutans are also highly endangered due to poaching and illegal land clearing. The Orangutan Project is the leading not-for-profit organisation supporting orangutan conservation, rainforest protection, local community partnerships and rehabilitation for orangutans.
Elite are now sponsoring this thriving organisation and look forward to any updates regarding future projects.
You can support this organisation in a number of ways, but below you'll find a donation link.
LINK: https://orangutanproject.worldsecuresystems.com/
How Do These Organisations Relate To Elite Caravans?
Well, this may be a good question, but why does the parallel need to be blatantly obvious? Elite have found these organisations to be leaders in their initiatives and there is no greater worth than supporting a cause that strikes the heart.