Off Road Caravan Fans...Watch This...
The next generation in Off Road Caravans has arrived - the Balistic Off Roader.
We are proud to announce our latest caravan -The Balistic. With high-spec off road performance and maintaining our high-end luxury interior, it is a must see Off Road Caravan.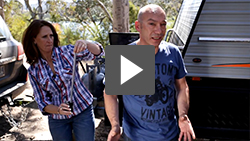 The Balistic is one of our many caravans in our off road caravans range. Combining a tough exterior and comfortable interior, with plenty of our standard luxurious features, makes the Balistic a caravan where you can go off road to reach that beautiful remote paradise and live in luxury when you get there. Sit back and relax, or just go Balistic!