Elite Caravans Wins Manufacturer Of The Year 2015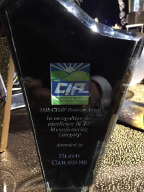 Elite Caravans has been awarded the Caravan Industry Association Victoria (CTIAV) Manufacturer of the Year award Friday night (3/07/15).
The Great CTIAV Affair - Hall of Fame Industry & Business Awards is a prestigious award night, celebrating the 1.4billion dollar caravan industry in Australia.
Over 550 industry people attended the awards night at the Crown Casino Palladium room, with the Manufacturer of the Year award being announced at approximately 9.45pm.
Winners of the 2015 CTIAV Business Award are recognised for their outstanding business performance and developments throughout the year.
Judged by three independent industry figures, this award is an outstanding achievement for Elite Caravans.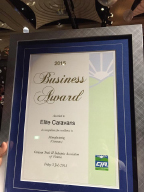 Elite Caravans owners noted that the award was a true reflection of a consistently evolving quality product, and represented the hard work of the entire Elite team.
"Taking out this award just solidifies the hard work and dedication of our team. It also provides us confidence that we're delivering a quality product, and seeking the right path in innovation".
Elite were awarded the NSW equivalent Manufacturer of the Year award in 2013, which has only sparked a greater determination to improve and develop new caravan concepts.
"We're absolutely humbled to receive these awards, and will utilise this recognition to further expand our efforts. We love our work, and look forward to sinking our teeth into future innovations".
Elite's focus on engineering excellence and innovation, allied to leading-edge design has produced many unique products, including the exciting testosterone-fuelled caravan, the Elite ManCave.
It's only mid-year and Elite Caravans hold many successes for 2015, including providing contestant headquarters for a blockbuster reality television show. Furthermore, Elite's manufacturing process was filmed during March for the Discovery Channel's, 'How Do They Do It' program, alongside names such as Bentley, Dr.Martens, NASA and Volkswagon.